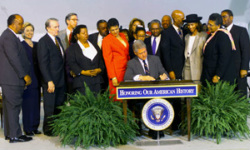 THE NINE WHO DARED TO DEFY SEGREGATIONISTS' TRADITIONS RECEIVE THIS COUNTRY'S HIGHEST AWARD --- IN THE EAST ROOM OF THE WHITE HOUSE, NOVEMBER 9, 1999.

President George Washington, Mother Teresa, President Nelson Mandella and Frank Sinatra are four of the less than 320 persons who have received the Congressional Gold Medal. It is an honor that must be voted by the members of both houses of Congress. The Little Rock Nine, heroes and heroines of the Civil Rights movement of the fifties received this country's highest honor given to a civilian for their triumphant but nonviolent trek through the racist mobs that mounted a life threatening effort to prevent their integrating Little Rock Central High School. It was 1957 and the United States of America was called on to stand up for the promises its forefathers had made in the Constitution--that all men are created equal and have equal access. President Eisenhower sent troops to protect these nine teenagers who shouldered the burden of breaking through barriers built by generations of folk who refused to see black people as deserving of equal access to an educational opportunity. These are the nine children who forged the path that helped America fulfill her promise of equality and justice for all.

To cement the significance of this historic event in the minds of U.S. citizens, the U.S. Mint has issued a Little Rock Nine commemorative coin. The coin is an iconic symbol of the strength, determination and courage shown by the African-American high students in the fall of 1957. The U.S. Mint will issue up to 500,000 coins to commemorate the anniversary.

The Little Rock Nine® Foundation is comprised of the original nine students who together braved the storm in Arkansas, seeking equal opportunity in education. Now, 50 years later, the nine are still united, and are actively committed to the mission of helping future generations realize, as they did, that education matters and is vital for success in every arena in life.

Incorporated in February 1999, the Little Rock Nine® Foundation has worked to advance the principles of excellence in education for young people from low performing schools. The mission of the Foundation is to provide direct financial support for students to help them reach their educational goals. The Little Rock Nine recognizes the importance of a good education and the continuous life-long process of learning. The Little Rock Nine® Foundation's Scholarship and Mentorship Program is designed to not only help financially enable students to pursue higher education, but also to provide them with a mentor who will guide and counsel them through their collegiate experience.
---